**Vegan Kitchen Ninja Series**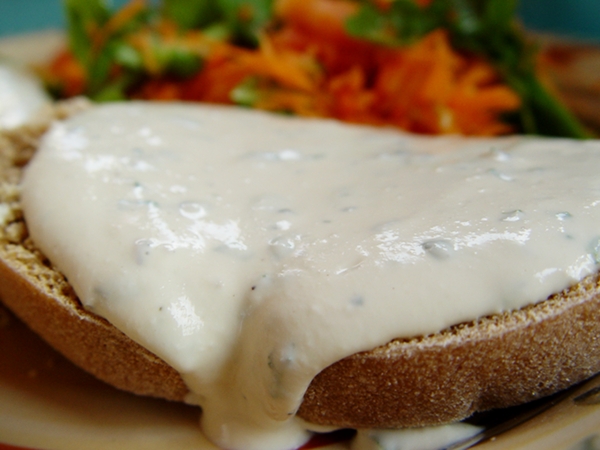 Would you like to learn how to bake cakes and cookies? Are you fascinated with the idea of making breads at home but don't know how? Want to amaze your family and friends with delicious, home made pizzas? Intrigued about plant-based cheese, butter, curds, mylk? Want people to taste your culinary creations and say, "what is this gourmet awesomeness?!"
Come attend our private baking and cooking classes and turn into a Vegan Kitchen Ninja! 🙂 Why just learn vegetarian cooking and baking when you can kick it up a few notches higher and do it the vegan way! Scroll down to find a wide variety of individual workshop options.
If you're looking for immersive vegan culinary training to start your own cafe or home based business, or if you're an existing food venture interested in introducing a vegan, vegetarian or whole foods plant based menu, then check out our Vegan Culinary Certification Courses and Consultation page.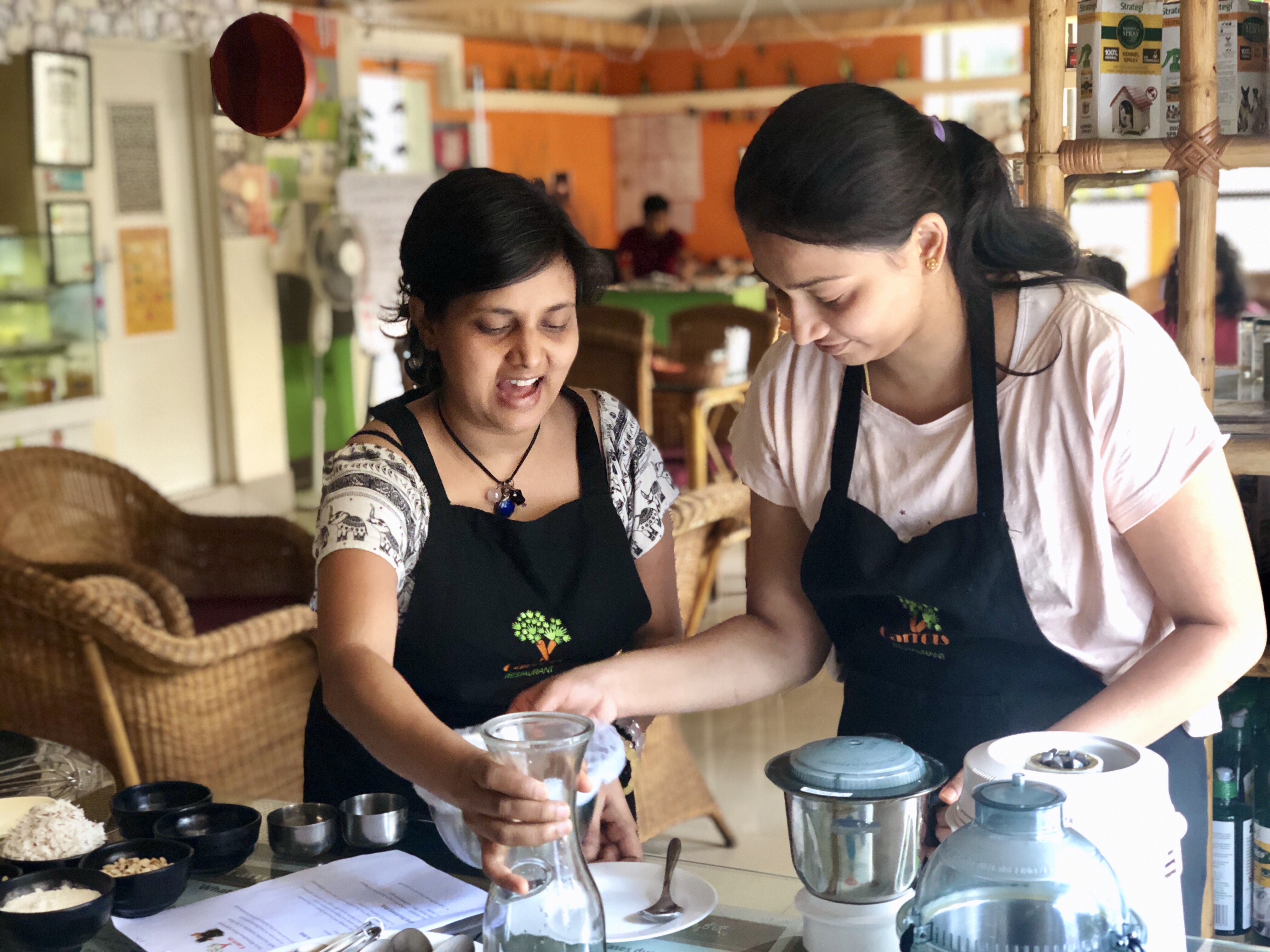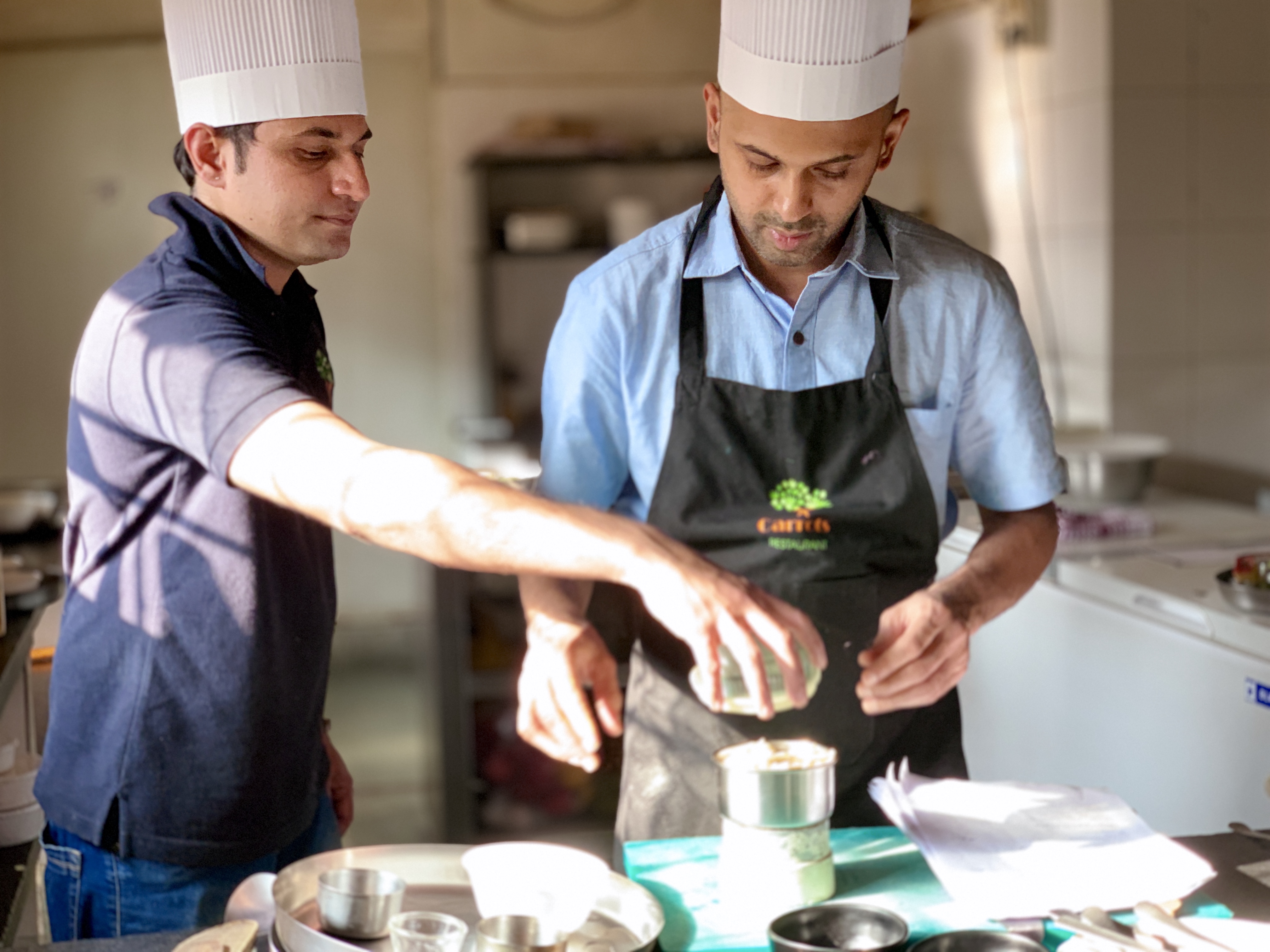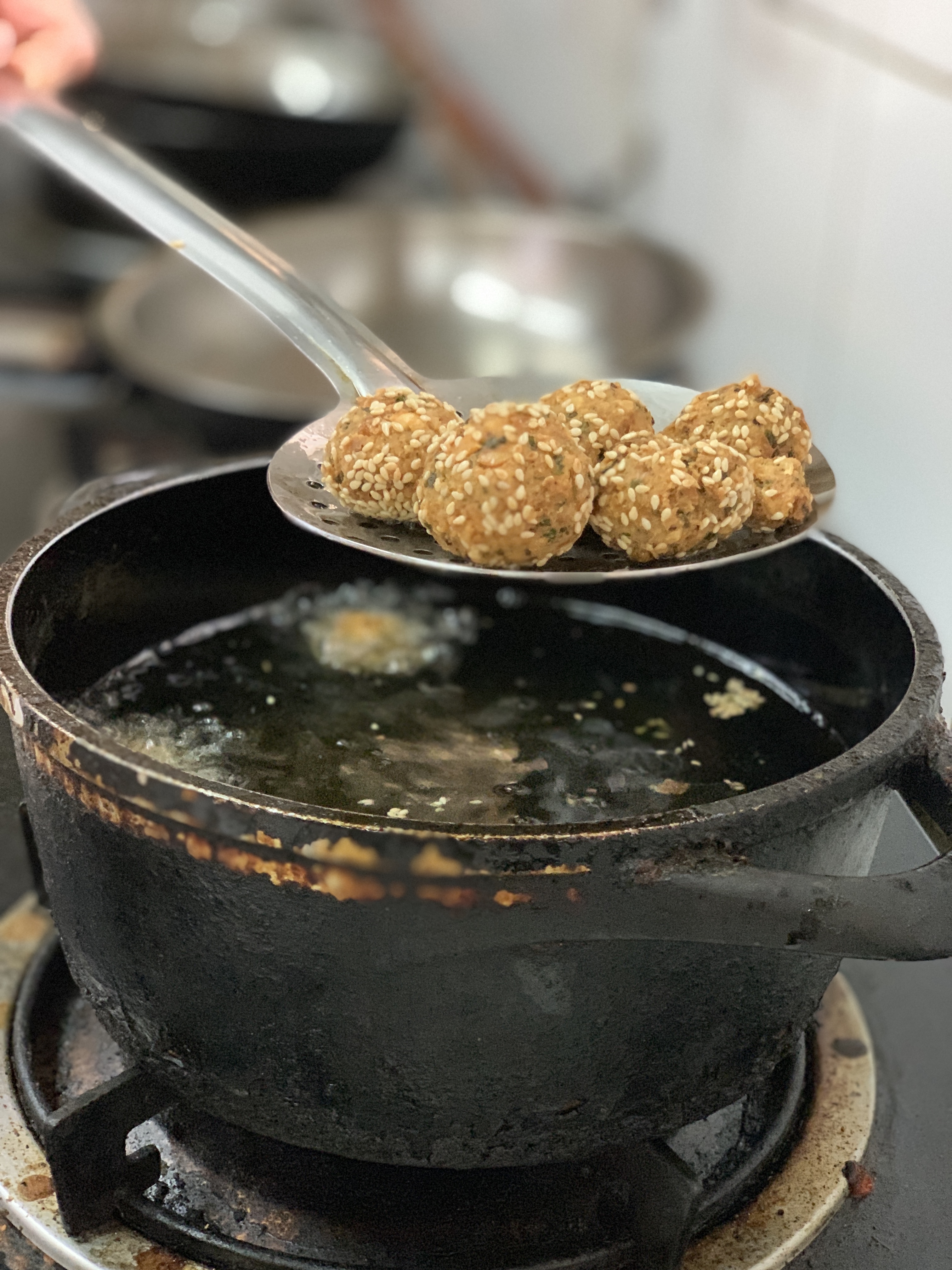 The workshops can be arranged for an individual or a cozy group of 2 to 3 people where each person gets individual attention and actively participates in preparing the dishes as a team. The class can be conducted in English, Kannada or Hindi, based on your preference. At the end of the class, you get to taste and enjoy the foods that have been prepared.
All prices listed below are on a per person basis. We also conduct Interactive Cooking and Baking Demonstrations (where the participants learn by watching the dishes being prepared) for groups of 15+ people at special group rates. You can get in touch with us if you'd like to arrange these at your café, apartment or corporate workplace.
So what're you waiting for? Pick the class(es) you'd like to take from the list below and e-mail us at [email protected] or send a WhatsApp message to +91 9632041340 to schedule your session(s). 🙂
Hot Cross Buns and Breads (₹6500) – Whole Wheat or Multi-Grain Bread with Plain, Masala and Stuffed variations
Sweet Soulful Breads (₹8000) – Cinnamon Rolls, Chocolate Swirl Bread, Banana Bread, Spiced Dry Fruit and Nut Loaf
Decadent Cakes (₹8000) – Chocolate (with Black Forest variation) and Plain (with Orange or Pineapple variation), including Creams, Fillings and Toppings
Addictive Cookies and Biscuits (₹7500) – Healthy Millet-Seed-Nut Biscuits, Jowar Jaggery Cookies, Indulgent Chocolate Chunk Walnut Cookies, Gingerbread Cookies, Butter Biscuits
Baking Mixed Bag (₹7500) – One variety each of cake, cookie and bread: Chocolate Ganache Cake, Chocolate Chip Cookie (or any other Cookie or Biscuit from the above class), Masala Khara Buns
Dairy Alternatives: Plant Based Mylks, Curds and Cheese (₹7000) – Coconut Mylk, Cashew-Sesame Mylk, Almond-Brown Rice Mylk, Peanut Curds, Fermented Herbed Cheese, Cold Coffee, Masala Chai
Egg-citing Vegan Breakfast (₹6500) – Tofu Burji, Spinach and Tomato Omelette, Crustless Quiche
Refreshing Raw Food Meal (₹7000) – Healthy Green Smoothie, Gazpacho, Cucumbers Stuffed with Pineapple Salsa, Hummus, Zucchini Pasta in Creamy Sauce, Mini Orange Cheesecake, Mylk Shake
Secretly Healthy Raw Desserts (₹8000) – Cinnamon Orange Ginger Tarts, Basundi, Brownie, Mixed Fruit Pudding, Carrot Cake, Energy Bombs
Pumped-Up Pizzas (₹8000) – three varieties of Pizzas including making the Base from scratch, Sauces and Toppings
Wrap and Roll (₹8500) – Fully Loaded Burrito (including all the stuffings and sauces), Falafel and Hummus in Pita, Fresh Rice Paper Spring Roll, Creamy Lettuce Roll
Beyond Penne: Pastas-from-Scratch (₹9500) – Ravioli, Lasagne, Gnocchi, Fettuccine, Cannelloni with a variety of Sauces and Stuffings
Sumptuous Soups and Salads (₹6000) – 3 types of Soups and 3 types of Salads
Refreshing Smoothies and Salads (₹6500) – 3 types of Smoothies and 3 types of Salads
Special South Indian Curries and Stews (₹6000) – Avial, Sagu, Peas Ushli, Chickpea Sundal
Sweet Soothing Payasas (₹6000) – Moong Dal Payasa, Shavige (Vermicelli) Payasa, Sabakki (Tapioca) Payasa, Gasgase (Poppy Seed) Payasa
South Indian Rice Dishes (₹5500) – Puliyogare, Lemon Rice, Pongal, Coconut Rice
South Indian Meal (₹6500) – Dry Sabji, Gravy Curry, Rice Dish, Sweet (Payasa or Halwa)
Whole Foods Plant Based: Super Healthy Cooking Class (₹9900) – Making simple, everyday, Indian dishes using whole foods and absolutely NO refined ingredients like white flour, sugar, jaggery or oil. We will cover a variety of dishes for a complete meal – kosumbari salad, baked snack, two main vegetable dishes (one dry and one gravy), rasam, curd rice (including making curds out of peanuts), dessert, hot or cold cashew-badam mylk
Gluten Free Baking (₹9900) – Bread, Cookie, Chocolate Cake, Pizza (including base, sauce, toppings and vegan cheese), Gnocchi Pasta in Pesto Sauce
Terms and conditions:
Full advance payment mandatory.
There will be absolutely no reimbursements or rescheduling upon cancellations from your end.
Once you make the payment, you will have to attend the workshops on the dates discussed or forfeit the fees entirely.
There's a lot of time, planning and effort from our end that goes into preparing for these workshops. We block the dates specifically for you and don't accept requests from others at that time. This is why we insist on these terms.
If you're looking for longer, immersive vegan culinary training sessions to start your own cafe or home based business, or if you're an existing food and beverage venture interested in introducing vegan or whole foods plant based options into your menu, then check out our Vegan Culinary Certification Courses and Consultation section. We currently have 3 day, 5 day and 7 day programs available.