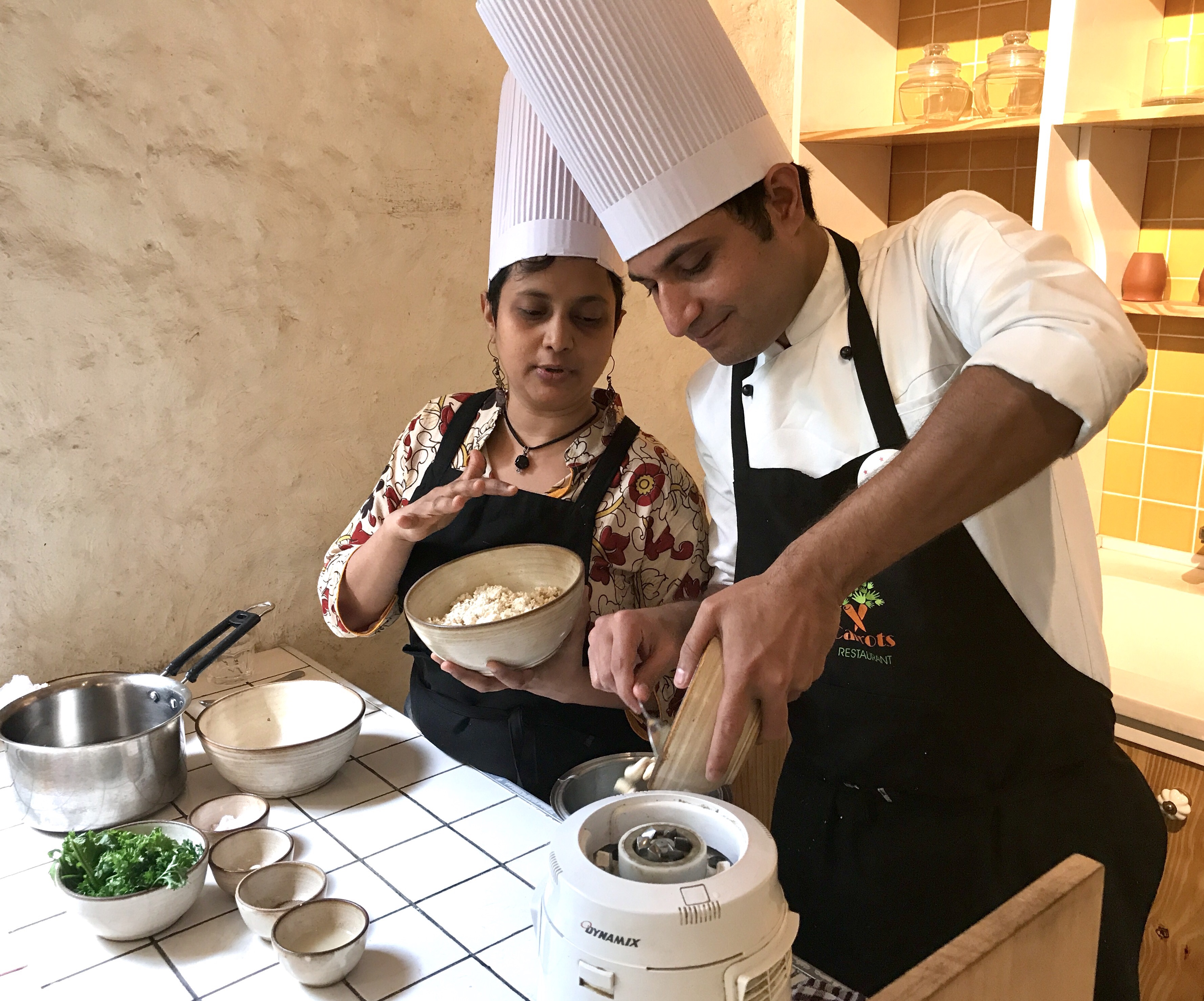 Online Workshops with Susmitha and Chef Ram
Learn to make delicious vegan dishes from the comfort of your own home with personalised, one on one, interactive coaching sessions from us over video calls. Classes can be conducted in English, Hindi or Kannada.
Once you purchase a class, we'll get in touch with you to set up a time slot (classes happen on weekday afternoons). Then we'll send you a list of ingredients and tools to keep on hand along with the recipes. We'll have a Video Call on Skype/Facebook/IMO/FaceTime or other video calling application and conduct the session where we'll guide you on how to make the recipes and answer your questions.
We'll be available for support on email or Telegram after the workshop too.
Prices are on a per person basis. If more than one person would like to attend this class from your location, please let us know and we'll offer you group prices.
Dairy Alternatives Ninja Experience Online – 5000
Almond-Brown Rice Mylk, Cashew-Sesame Mylk, Coconut Mylk, Peanut Curds, Fermented Herbed Cheeze, Masala Chai, Cold Coffee
This class includes plenty of tips about going vegan, which mylks are a good combination for what dishes, etc.
Refreshing Raw Foods Online – 6000 (register here)
Healthy Green Smoothie, Gazpacho, Cucumbers Stuffed with Pineapple Salsa, Hummus, Zucchini Pasta in Creamy Sauce, Mini Orange Cheesecake, Mylk Shake
Secretly Healthy Raw Desserts – 7000 (register here)
Cinnamon Orange Ginger Tarts, Basundi, Brownie, Mixed Fruit Pudding, Carrot Cake, Energy Bombs
Super Healthy Indian Meal – 7000 (register here)
Making simple, everyday Indian dishes using whole foods and absolutely no refined ingredients like oil, white flour or sugar. Recipes covered – Kosumbari Salad, Baked Masala Vada, Dry Sabji and Gravy (both with oil-free Tadka), Payasa/Kheer, Cold Cashew-Badam Mylk
Write to us on [email protected] if you have any questions or if there are any specific recipes that you'd like us to design into a class for you.