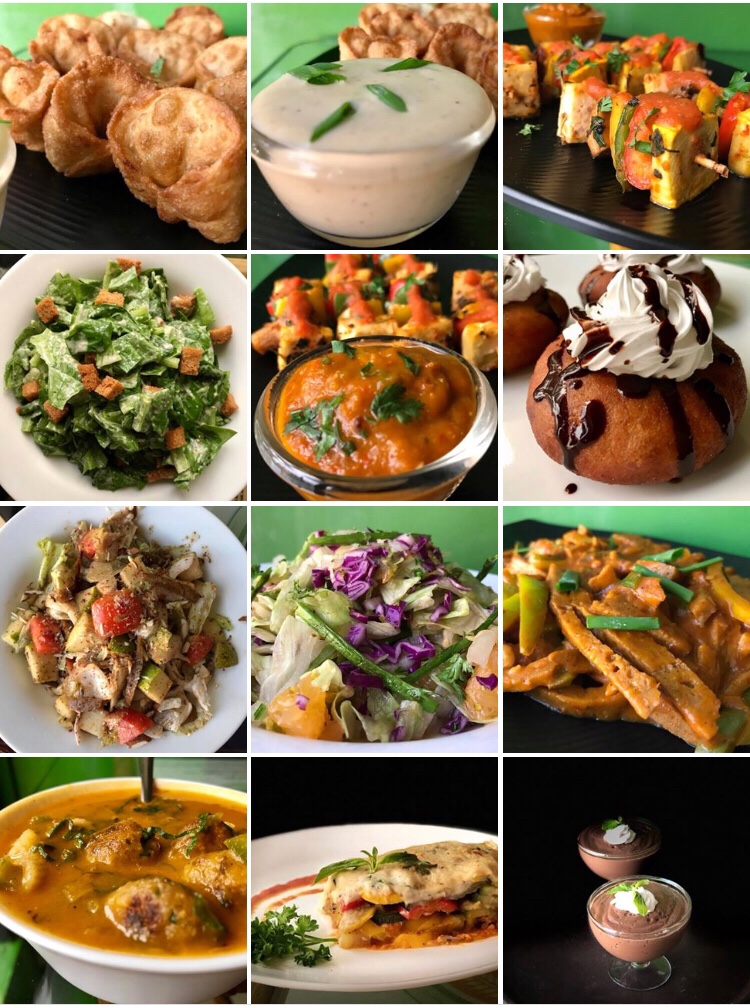 It's time to welcome the New Year once again with Carrots Restaurant's EPIC Vegan Buffet Spread!!!
Date: Sunday, 31st December, 2017
Time: 7.30 p.m to midnight.
The dinner will end at 11 p.m, post which we can all chill with some music and wait for midnight together. 🙂
Price:
1499 per person (inclusive of all taxes) Ticket: https://www.gocashfree.com/product/182
Kids (6-12 years): 799 Ticket: https://www.gocashfree.com/product/183
Under 6 is no charge 🙂
Advance paid registration is a must!
And now we present, the fantastic menu!!! 😀
Beverage:
Virgin Cucumber Mojito
Soups:
Macaroni Meatball
Tom Yum
Dips:
Chipotle Hummus
Cheesy Caramelized Onion
Roasted Chili Bell Pepper
Breads:
Basil and Olives Bread Stick
Focaccia Bread
Garlic Bread
Salads:
Sweet Mustard Vicken with Pears and Almonds
Asparagus and Orange
Caesar
Starters:
Baked Barbecued Tofu Veggie Skewers
Spicy Stir Fried Vicken
Crispy Corn and Potato Dumplings
Global Main Course:
Moussaka
Vegetable Noodles
Indian Main Course:
Seitan and Vegetable Biryani
Soya Raita
Tofu Peas Masala
Basmati Rice
Desserts:
Bourbon Cheese Cake
Chocolate Mousse
Pomegranate Tart
Chocolate Cream Doughnut
Rasmalai
We'd love to accommodate each and every one of you, but unfortunately there is limited seating at our restaurant. So get set and book your spots soon, before we run out of places!
————————————————-
Note: Liquor is not allowed on the Carrots premises, so this will be an alcohol-free party. But we promise you'll be intoxicated on the food. 🙂
————————————————-
You can register your spot by making a payment using any of the following options:
1: Online Payment:
Ticket: https://www.gocashfree.com/product/182
Child ticket (6-12 years): https://www.gocashfree.com/product/183
2: Cash/Card:
Drop into Carrots (during our working hours) and book your spot via Cash/Card.
Address:
No. 607, First Floor,
80 Feet Road, Koramangala 6th Block,
Bengaluru 560095
Phone: +91 80 41172812
Nearest landmarks: CARTMAN Foundation, Namdharis, Sony World Signal
Please feel free to email us on [email protected] in case you have any questions.
Looking forward to bringing in the New Year with you!
Keep an eye out on our social media for photos, videos and updates about the delicious New Year's Eve dishes.
Facebook: http://facebook.com/CarrotsTheHealthyKitchen
Instagram: http://instagram.com/CarrotsRestaurant
YouTube: http://youtube.com/c/CarrotsBengaluru
Telegram: https://t.me/CarrotsRestaurant
– The Carrots Team 🙂